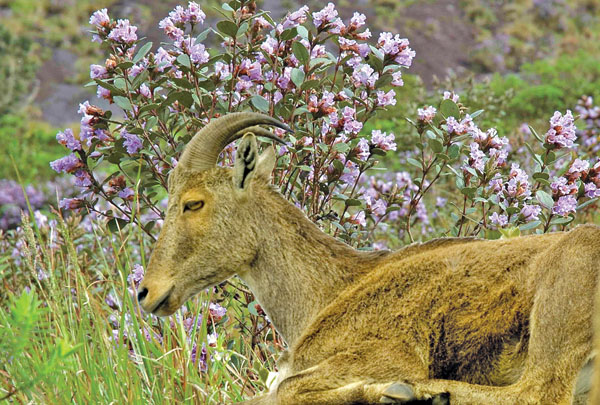 Eravikulam National Park
Eravikulam is situated close to Munnar. It lies across the border of Kerala and Tamil Nadu and further extends to the Annamalai National Park Rich in forest and grasses, this park was established to protect the Nilgiri Tahr, an endangered specie of the wild goat and the only one to be found south of the Himalayas.
Apart from the Nilgiri Tahr, which is a goat found in South India, the Eravikulam National Park is also home to Atlas Moth, Elephants, Sambhars, Gaurs, Lion-tailed Macaque, Nilgiri Langur, Tigers and Leopards.
Anamudi Peak
At 2,695 mts, it is the highest peak in south India is located within the Eravikulam park area. This offers a good trekking ground and thus attracts many people.
Devikulam
This idyllic hill station situated 7 kms from Munnar is a spread of velvet lawns, exotic flora and fauna and cool mountain air. To a visitor it surely would turn out to be a rare experience. The Sita Devi Lake with its mineral waters and picturesque surroundings is a good picnic spot. The lake is also ideal for trout fishing.