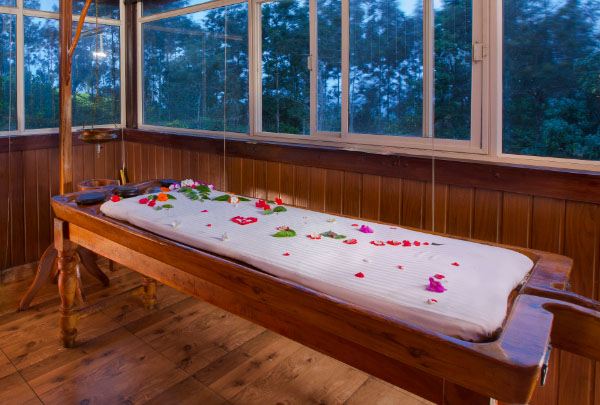 AYURVEDA MASSAGE
Relax | Restore | Rejuvanate
Ayurveda evolved around 600 BC in India. This new system of medicine stressed on the prevention of body ailments in addition to curing them. Today it is a unique, indispensable branch of medicine a complete naturalistic system that depends on the diagnosis of your body's humours-vata, pitta and kapha-to achieve the right balance. Ayurveda believes in the treatment of not just the affected part, but the individual as a whole. Making it the natureal way to refresh yourself, eliminate all toxic imbalances from the body and thus regain resistance and good health.
MASSAGE
A systematic and scientific manipulation of body tissue performed with hands for the therapeutic effect on the nervous and muscular system through systematic circulation. Massage has an overall effect on the immune system of the body and helps to maintain optimum health.
MEDICATED STEAM BATH
Medicated steam bath eliminates impurities from the body, improve the tone and complexion of the skin, reduce fat and are recommended for certain rheumatic diseases, particularly for pain. Precious herbs and herbal leaves are boied and the steam is passed over the entire body for 10 minutes.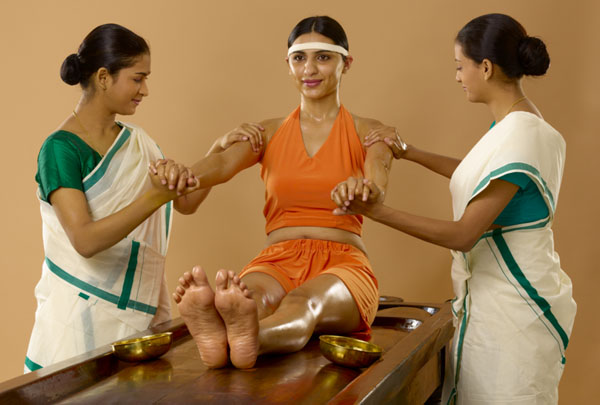 BENEFITS OF AYURVEDIC MASSAGE
Soothes and enables the nerves and pulse to function properly.

Increase circulation of the blood and lymph so that waste materials such as perspiration, urine and excreta are discarded properly.

Strengthens the lungs, intestines and other vital organs for
proper functioning.

Improve tone and complexion of the skin, Regulates the digestive system.

Cures diseases such as paralysis and polio.

Strengthens muscles and blood vessels, Increases stamina and well sleep.

Benefits people who are unable to do exvercise.

Reduces swelling and thickening of tissues.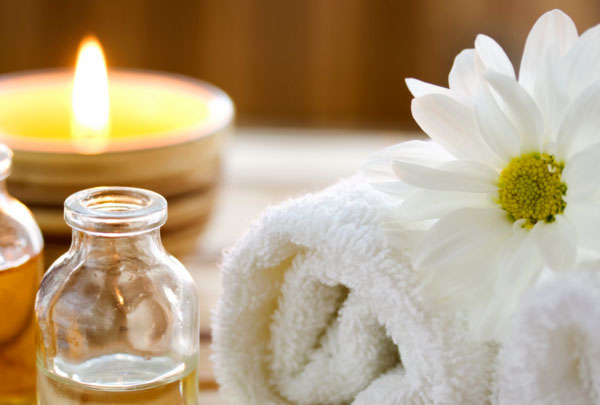 SPA
ABHYANGAM WITH HERBAL STEAM BATH – 60 Minutes – 2000/- INR
Holistic healing & detox massage by ayurvedic herbal oils. Abhyanga is an ancient Indian ayurvedic oil full body massage therapy for healing & detoxifying body mind and spirit. 45 minute abhyanga is followed by 15 minute herbal steam bath which is a perfect therapy for toning the skin & giving it a special glow.
Benefits:
Nourishes mind and body

Rejuvenates the whole body

Relieves fatigue

Promotes deeper sleep

Enhances complexion & luster of skin

Stress relief

Eliminates impurities from the body
ABHYANGAM (Full body massage) – 1800/- INR
This treatment renders strengths to nerves and muscles and purifies blood and is beneficial for all types of rheumatism, joint pain, emaciation of limbs, high blood pressure, cholesterol, paralysis, sciatica, and certain kinds of skin diseases and it improves general body weakness, the skin colour and complexion.
SIRODHARA – 60 Minutes – 2500/- INR
Ayurvedic therapy for relaxation and stress management. Sirodhara is a form of Ayurveda therapy that involves pouring liquids over the forehead along with the head massage.
Benefits:
Effective in condition such as anxiety stress etc.

Produces calming effect similar to that obtained in meditation

Used to treat conditions such as sinusitis, rhinitis, greying of hair, memory loss, insomnia, vertigo etc
ABHYANGAM WITH SIRODHARA – 90 Minutes – 3000/- INR
Initially it starts with 45 minutes full body massage after that 45 minutes sirodhara. By having this special massage it will get both the benefits of abhyanga and sirodhara
FOOT MASSAGE – 30 Minutes– 1000/- INR
A foot massage not only benefits the feet but revitalizes the whole body. It increases energy, balances emotions, and improves blood and lymph circulation.
HEAD NECK AND SHOULDER MASSAGE – 30 Minutes– 1000/- INR
Great for relaxation, targeting all the places you hold the most tension the head neck and shoulders. 
Reduces stress and anxiety

Eases muscle tension

Improves circulation
BACK MASSAGE – 30 Minutes– 1200/- INR
Helps to relieve your lower back pain

Releases the muscle tension

Improves sleep

Stimulates the nerves
HERBAL FACIAL – 45 Minutes– 1500/- INR
An ayurvedic facial using pure ayurvedic herbal medicines

Prevent aging of skin

Build elasticity so that avoid wrinkles

Tones up the skin

Avoid pigmentation and discolouration
TREATMENT FOR BACK NECK AND JOINT PAIN – 60 Minutes– 2200/- INR
Under the instruction of our physician
TREATMENT FOR DIABETIS – 60 Minutes– 2000/- INR
 Along with the treatment procedure medicine is also provided
TREATMENT FOR DEPRESSION STRESS ANXIETY SLEEP DISORDERS – 60 Minutes– 2800/- INR
 Purely ayurvedic management for stress anxiety etc.
TREATMENT FOR HAIRFALL, DANDRUFF – 30 Minutes– 1500/- INR
An effective remedy for your long term hair problems
For Booking and Appointments:
Mob: +91 9745803111 / 9526015111
Terms and conditions
All the above prices are excluding Taxes.

Smoking is not allowed inside the Spa; Please "turn-down" your mobile phone during your visit and abstain from making any loud noise or conversations, as other treatments may be in progress.

The Spa is an adult oriented atmosphere.

We do not allow access to children under the age of 15.

A parent or guardian must be present or give signed consent for any treatments given to a minor under the age of 15.

All prices subject to Government taxes as applicable.